Ireland Canada Trade Relationship will flourish under CETA
26th April 2012
Ireland has the most to gain from the EU-Canada Free Trade Agreement - stated Loyola Hearn, Canadian Ambassador to Ireland at the Irish Exporters Association & ICBA seminar briefing on CETA on 26th April. Bord Bia however warned of the difficulties for beef and dairy exporters.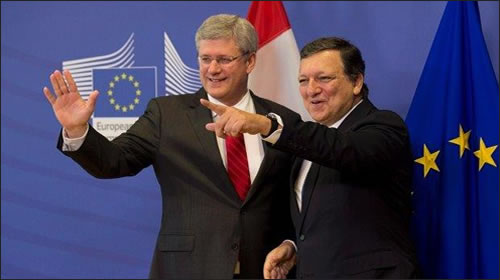 Canadian Prime Minister, Stephen Harper, and President of the European Commission, Jose Manuel Barroso
His Excellency Loyola Hearn, Canadian Ambassador, stated that the EU Canada Free Trade agreement could rightly be described as an Ireland Canada Free Trade Agreement, as Ireland had most to gain in Europe under the agreement when ratified. This he said could be signed into effect this year, but if it slides over to early next year when Ireland hosts the EU Presidency then it would be a very fitting occasion. Enda Newton, Chair of the Ireland Canada Business Association stressed that CETA is timely and will provide the perfect catalyst to boost Ireland's exports. Currently there are a number of Irish companies competing very successfully in Canada and the mandate of the ICBA is to enable further trade to take place between Ireland and Canada.
Kevin Sherry, Head of International Sales and Partnering at Enterprise Ireland advised the meeting that:
An Irish Trade Mission to Canada would take place between 4th and 8th November, led by Minister Richard Bruton T.D., to build on strong trading opportunities for Irish exporters.
Ireland was the 5th largest recipient of Foreign Direct Investment from Canada, and is seen as a very close trading partner.
54 Irish companies had invested in Canada and had operations there, underscoring the two way relationship in international trading with the region.
James O'Donnell, of Bord Bia, while stressing the major opportunities for Irish Agri food producers in potential exports to Canada, advised that the current market access situation made it very difficult for dairy exporting companies and questioned whether these would be addressed in the proposed free trade agreement. In regard to market access for Irish beef exporters into Canada, he went on to say that EU member states beef exports to the USA and Canada are likely to remain closely tied up together in any new trade agreement.
CETA, the free-trade deal between Canada and the European Union, is currently in its 10th round of closed-door negotiations.
"We need to closely monitor the final stages of the EU Canada Free Trade Agreement to ensure Irish export interest is fully captured and that Ireland is seen to be contributing to EU policy development." stated John Whelan.
He went on to say, "current exports to Canada of €1.2 billion in goods and services could rise to over €2.4 billion over a 5 year period if the free trade agreement were signed off this year, putting Canada into the top ten export markets for Irish exporters."
CETA, also known as the Comprehensive Economic Trade Agreement, is expected to be far more wide-ranging than the North American Free Trade Agreement and will impact everything from goods to investment to local procurement projects.
Nova Scotia , with which Ireland has had special relations has asked to have its liquor monopoly, as well as mining, forestry, fishing and gambling industries, exempted from European competition. The province's 24 proposed exemptions would preserve the Nova Scotia Liquor Corp.'s market access monopoly, and allow the corporation to give preferential treatment to local providers.
Other proposals would limit foreign access to food, pipelines, electricity, mining, quarrying and oil and gas activities. These are particularly worrying to Irish agri-food industry exporters.
Trade between Canada and the EU topped $92 billion last year. The Canadian Government estimates CETA could boost that amount by 20 per cent.