LATEST NEWS
CETA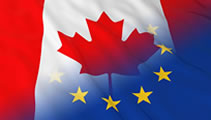 CETA – what it means for Ireland, EU and Canada
---------------
ICBA Business Summit
22nd October 2016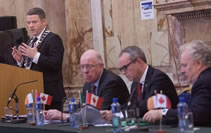 Garrett Monaghan, ICBA Chair speaking at the
Business Summit
in Iveagh House
with panellists
Minister Charlie Flanagan,
Ambassador Jim Kelly and former Quebec Premier,
Jean Charest
--------------------------------------
ICBA Annual Lecture
1st March 2016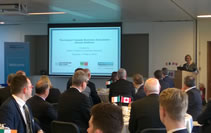 Julie Sinnamon, CEO,
Enterprise Ireland
addressing ICBA
--------------------------------------
Mayor of Montreal visits Dublin
29th April 2016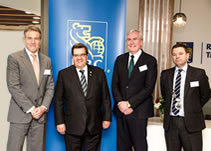 Mayor Coderre of Montreal with ICBA Chair, Garrett Monaghan, Ambassador Vickers and
RBC Managing Director, Padraig Kenny
-----------------------------------------

FOUNDATION / PATRON MEMBERS


IRELAND CANADA BUSINESS ASSOCIATION NEWS
Enterprise Ireland announces increase in trade from Ireland to Canada

Ireland Inc. is proud to report an increase of 22% in trade from Ireland to Canada for 2010. The underlying story behind the figure is naturally complex but highlights the positive nature of the Canadian market for Irish based companies. The strength of the Canadian economy in the face of a global downturn, the ease of doing business and the matching of the Irish supply base to demand are contributing factors.
Enterprise Ireland works with indigenous Irish companies that are exploring and seeking opportunities in the Canadian market. These companies come from a range of sectors such as software, life sciences and machinery equipment. Some of the success stories to date include Curam Software, who provide Social Enterprise Management software to Canadian authorities, Advanced Innovations who supply mobile handsets to Public Mobile and Multi Hog providing sweeping machinery across Canada.
Air Canada and Aer Lingus sign Interline Agreement
The ICBA welcome an agreement which marks the first step to code sharing, year-round service to Ireland.
Air Canada and Aer Lingus have announced they have signed an interline agreement to make flying between Canada and Ireland more convenient. The agreement is effective immediately and is a preliminary step toward a full code sharing relationship expected to be finalized next year between the Canadian and Irish flag carriers. "Air Canada is pleased to interline with Aer Lingus as it will complement our Toronto-Dublin seasonal service to make it easy to fly year-round between Canada and Ireland via convenient connections through London Heathrow Airport, Air Canada's largest international station. We intend to follow through with other measures to enhance the experience for customers traveling between Canada and Ireland, including a full code share relationship with Aer Lingus beginning next year, the planned relocation of both carriers to Terminal 2 at Heathrow to facilitate connections and following that the introduction of year-round flights between Canada and Ireland," said Marcel Forget, Vice President Network Planning at Air Canada.
"We are delighted to announce this new partnership. We look forward to working closely with Air Canada to provide our customers with seamless travel options between Ireland and Canada," said Stephen Kavanagh, Chief Commercial Officer at Aer Lingus.
As a result of the agreement, customers flying Air Canada and Aer Lingus are now able to enjoy the additional flexibility and ease offered by the availability of a single electronic ticket. The agreement enables customers to use both carriers' check-in kiosks and to through-check their baggage to final destination. Currently, Air Canada flies Toronto-Dublin non-stop daily during the summer, from June until October 13, and customers can connect through London-Heathrow, where Air Canada operates from eight Canadian gateways into Heathrow, with 12 daily flights in summer and nine in winter.
Ireland - Excellent Location for Mining Investment
Canada's Fraser Institute in its 2011 Survey of Mining Companies reports that Ireland has climbed from 16th position to 9th as an attractive destination for mineral exploration and mining investment. It is a significant achievement for Ireland to be in the Top 10 alongside New Brunswick and other Canadian provinces.

The full survey can be accessed at http://www.fraserinstitute.org/research-news/display.aspx?id=18046.
Does Canada Have the Answer?
Simon Carswell, The Irish Times, 4th September 2009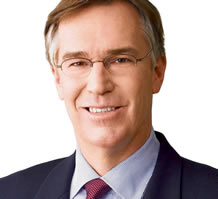 Royal Bank of Canada's chief executive Gordon Nixon explains how the conservativeness of Canadian banking has given them the reserves to cope with the world recession
FEW BANK chief executives in the current financial climate have the opportunities facing Gordon Nixon. As head of Royal Bank of Canada (RBC), the country's largest bank, and the second longest-serving bank chief executive in the world (after Josef Ackermann at Deutsche Bank), Nixon's years of conservative banking have left the lender well poised to take advantage of the global financial crisis.
Canada's tradition of fiscal conservativeness, prudent lending, strict regulatory requirements on setting aside capital for the bad times and a stable property market meant the country's banks avoided the excesses of global banking that damaged rivals around the globe.
Canadian Banking System deemed healthiest in the world
Source: Fareed Zakaria, Newsweek © 2009
ADDRESS FROM THE IRISH AMBASSADOR TO CANADA - DR. RAY BASSETT

Dr. Ray Bassett, Ambassador of Ireland to Canada
It is my great pleasure to express my support for the work of the Ireland Canada Business Association in developing relationships between Irish and Canadian business people and promoting trade and investment between our two countries. In my role at the Embassy of Ireland in Canada, I can see first-hand the strength and depth of the links that exist between the Irish and Canadian people, and the great potential that there is to enhance our trade relationship even further.
I regard the ICBA as an important body in that regard. It is a pro-active organisation, which brings considerable strength and expertise to the promotion of economic links between Ireland and Canada. I witnessed this at first hand when the ICBA organised a promotional visit to Canada last March which included business meetings in Ottawa, Montreal and Toronto.
Canada has provided a warm welcome and a new homeland to many thousands of Irish people throughout our shared history, extending back to the 17th century, and it continues to be a popular destination for young Irish people today. I was delighted with the decision of the Canadian authorities to expand the International Experience Canada working holiday programme this year, to allow up to 5,000 young Irish citizens the opportunity to live and work in Canada for a period of up to two years. Equally, it is encouraging to note that several hundred Canadian students are enrolled in higher education in Ireland and are enjoying all that student life in our cities has to offer. Cultural and academic exchanges such as these are key to building the personal relationships and business networks that will benefit both of our countries in the future.
Today, bilateral trade between Ireland and Canada is growing steadily. Canada receives almost 25% of Ireland's foreign direct investment abroad, while Ireland is the fifth largest recipient of Canadian investment. Shared values and work practices, together with a number of bilateral agreements in areas such as research and development, make Irish and Canadian companies natural partners. The Comprehensive Economic and Trade Agreement (CETA) currently being negotiated between the European Union and Canada has the potential to further open access to our markets to one another, and to facilitate freer movement of workers between our shores. This is an exciting time in relations between our two countries.
I wish the ICBA every success with their initiatives. The work they are doing in promoting business links between Ireland and Canada is very valuable is sure to be of great benefit to all involved.
PATRON'S ADDRESS

Patron of Ireland Canada Business Association
Loyola W. Hearn, Ambassador to the Embassy of Canada in Ireland

On behalf of the Embassy of Canada in Ireland and as the Patron of the Ireland Canada Business Association (ICBA), I am pleased to welcome you to this website.

Relations between Ireland and Canada have always been close - with approximately four million Canadians claiming Irish ancestry. I come from Newfoundland where 50% of the population claim Irish ancestry and where in my own home area, practically everyone is of Irish descent. While family ties form the basis of these relations, shared values and interests between our two countries have further strengthened the Canada-Ireland relationship, particularly in meeting the challenges of domestic and global governance. There is a growing dialogue, increased cooperation and sharing of "best practices" in areas such as education, parliamentary reform, healthcare, and in other social and economic policies.

Trade between the two countries is constantly growing, complemented by an increasing number of bilateral research and development initiatives, investment projects and joint ventures. A Blue Skies air agreement signed between Ireland and Canada in April 2007 now allows Canadian and Irish air carriers to provide services between any city in Canada and Ireland. We must take greater advantage of this opportunity.

The Embassy of Canada views the ICBA as an important ally, particularly as it strives to promote Canada as a globally competitive location and partner for investment, innovation and value-added production. Irish companies who are looking for a key entry point into the North America Free Trade Agreement market will find Canadian cities to be among the most cost competitive production locations in the world, while Canadian firms looking for a springboard into Europe, the Middle East and Africa will also find key advantages in Ireland.

If you are interested in further exploring this commercial relationship with one of the strongest economies in the world, I would encourage you to contact the Canadian Embassy, which has a team of dedicated Trade Commissioners that can assist you, as well as the ICBA which can expose you to a valuable network of professionals who have experience in doing business with Canada.

I would therefore like to take this opportunity to wish the Ireland Canada Business Association every success as it endeavours to carry out an ambitious program of activities this year.