Irish Independent – 7 February 2021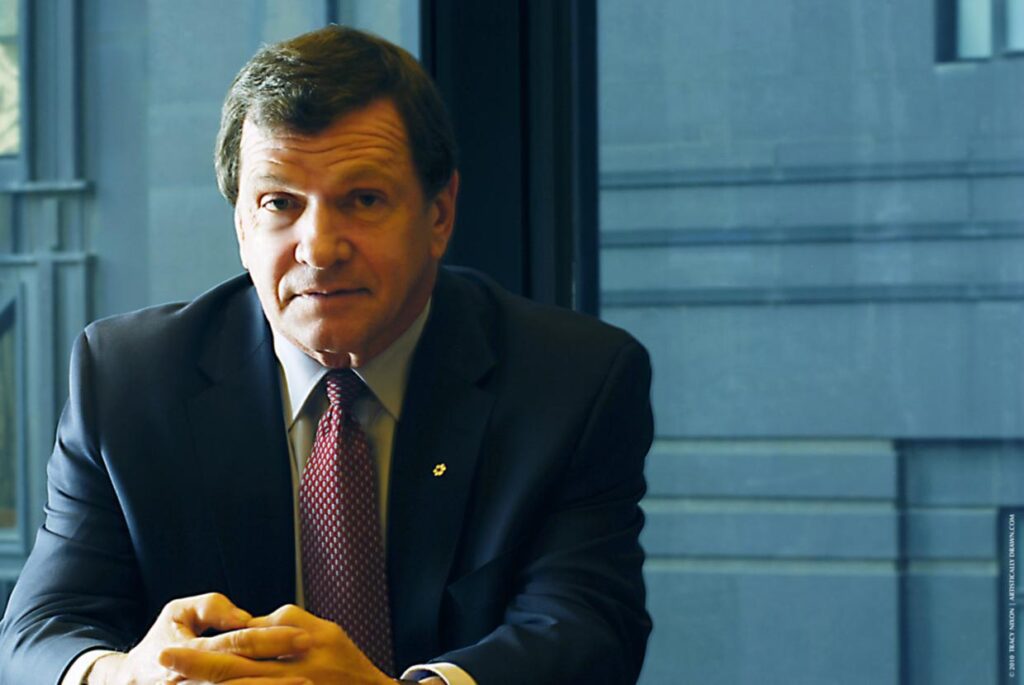 Irish-Canadian business veteran sees better days ahead under Biden
Canadian businessman Frank McKenna, who is chairman of Brookfield Asset Management and deputy chairman of TD Securities, believes Ireland will benefit greatly from President Joe Biden's approach to world trade.
McKenna, a former Canadian ambassador to the US who recently addressed the Ireland Canada Business Association, also outlined a number of opportunities in Ireland for the businesses which he is involved with.
"I think that Ireland and Canada are very similar and that we both rely on the larger world and our goodwill with the larger world as part of our quality of life," he told the Sunday Independent. "I think Biden, quite frankly, is going to have a much bigger view of the world and hopefully the world will start to come around to acting collaboratively. That would be good for Ireland, it certainly would be good for Canada."
McKenna said that he is optimistic about the post-Covid recovery and that Brookfield, which owns holiday village group Center Parcs, saw potential in Ireland.
"Our belief was strong enough in the Irish Center Parcs (in Longford) that we've recently recapitalised and put money into it. I'm of the view that as dark as days are now, as we see hope and daylight in front of us, there's going to be an outpouring of activity. People are going to shop and they're going to travel, and they're going to enjoy tourist accommodations.
"And so, I think it's going to be a very, very strong operation and we've got five in the UK, one in Ireland to date and it would not be a surprise if we were to look at Ireland for other similar opportunities. But for now, we've just got to get through these dark days of the pandemic and I think people will be running out the doors as soon as they can."
Brookfield is a major investor in the renewables area and last year sold wind farm assets in Cork and Clare.
"We just sold one portfolio of wind farms, but I notice we're building, in Tipperary, renewable energy for Facebook. We've just hired Mark Carney (former Governor of the Bank of England) who is heading up our green transition fund and you would know him as a son of Co Mayo and all of his grandparents are from Co Mayo and he has Irish citizenship as well."
McKenna said Ireland would "figure very prominently" in this area. "We'll be raising tens of billions of dollars to invest in the green economy," he said.
Brookfield is also a backer of telecoms firm Imagine. "We could love the country, but (do) not keep the assets forever, we tend to recycle assets a lot. And we've sold some of our green assets, we've bought some more. So, I don't know where we'll end up going with the broadband but I know the company's been very excited about getting into that whole rural broadband space," he said.
McKenna also urged Ireland to ratify the Comprehensive Economic and Trade Agreement (CETA), which is a free-trade agreement between Canada and the European Union. CETA has faced some opposition here, particularly from members of the Green Party. Their key concerns relate to an investor-state dispute resolution mechanism, which would give international investors the ability to sue Government over policy changes that affect profits.
McKenna said CETA would be positive for Ireland. "It's tariff-free trade, it's with a trusted trading partner, Ireland enjoys a surplus in trading with Canada. The goodwill between the two countries is just brimming, so it just seems logical to get that finished."
TD Securities opened offices in Ireland in May 2019 and will grow organically here, McKenna said. "From 20 jobs, we'll be up to 100 and that'll continue to grow."
Opening an office in Ireland was an easy decision, he said. "We looked at the menu, all of the other countries were making very attractive offers and pushing hard. But we liked our experience in Ireland, we like the culture in Ireland, we have a commonality in language and legal system, the tax regime is accommodating, the employee base is well educated and attractive, and a lot of us like going to Ireland."
McKenna said that it was early days for the Biden administration but that signs were good.
"Our relationship with the Trump administration was civil, at best. Nobody in Canada wanted to antagonise him, but they were very hostile to us in so many ways. And we never had a visit from Trump to the country, an official visit. That's extraordinarily rare, Canada is usually visited within months of a new administration.
"That was a big issue, but he was attacking us on Nato, he was attacking us on trade issues, tariffs and so on. We'll have issues with Biden, there's no doubt about that, because the US-Canada relationship is the largest in the world."
Trump tore up the North American Free Trade Agreement between the US, Canada and Mexico and pushed for changes to boost American business over a year-and-a-half of tortured negotiations and threats that in the end saw the trade pact renamed but emerge little changed.
"But the tone is entirely different. The tone is civil, it's accommodating, it's the way you treat a friend, a neighbour, an ally, a cousin and we're all of those things. And I think you'll find the same thing."
He said Trump was actively a supporter of Brexit and "didn't seem to care how it came about".
"On the other hand, you have Biden, who's from Ballina, Co Mayo, who said that he was not going to be supportive of anything that did not deal with the Irish issues, Good Friday Agreement, etc. So, that's a total difference, a dramatic, total difference.
"I think our worst days are behind us. I think it's going to get better," he added.