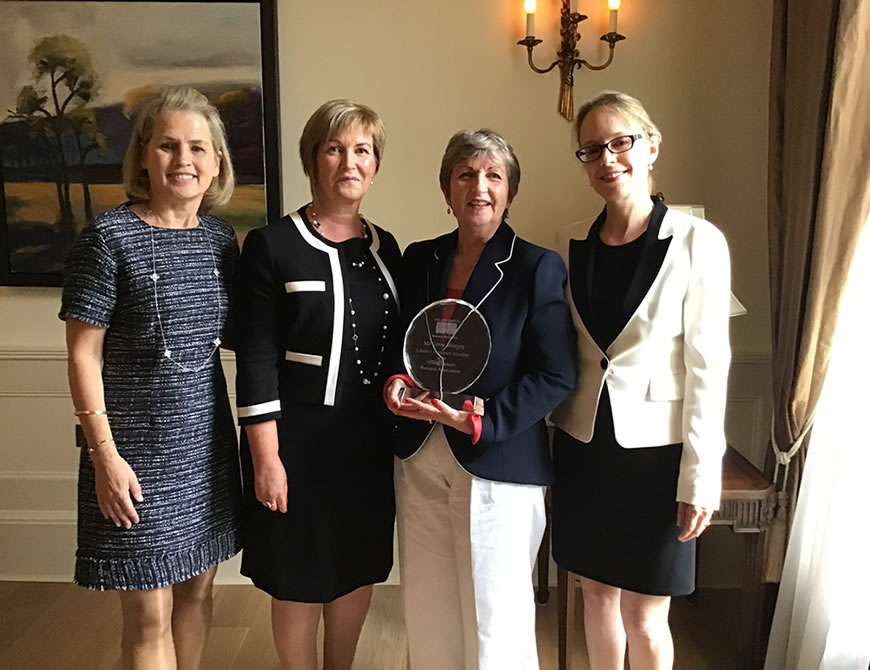 Image from left to right: Kate Hickey, Deirdre Giblin, Gerry Mongey, and Suzanne Drisdell
The ICBA recently presented Gerry Mongey with an honorary lifetime membership as she retired from her role as Trade Commissioner at the Canadian Embassy in Dublin. Here is the tribute paid to her on the evening.
The growth of Ireland's relationship with Canada in tourism trade and in terms of the sheer number of young Irish people who leave Ireland every year to work in Canada is one of the great success stories in international relations.  It encompasses the recent appointment of an Honorary Consul in Vancouver and the fact that five airlines now direct flights between Ireland and Canada. But it also but goes beyond this, spanning a wide range of areas from education, government, innovation, business to culture and tourism.  
While many individuals and bodies can take credit for this great success, in both Canada and Ireland, it is widely recognised that one individual stands out.  This individual's contribution can be traced back to one morning in February in 1981 when a young Gerry walked in to the Embassy offices. Gerry Mongey is often described as the central 'common thread' in the success of Ireland Canada. For the last 38 years and 8 months she has nurtured the relationship and has steered and guided many who came to work on the relationship down the years.  
Gerry has worked with many ambassadors and trade commissioners in promoting Canada in Ireland. She has helped literally hundreds and hundreds of Canadian companies come into the Irish market to become established and employ many Irish people. She has lead trade mission after trade mission and brought Irish journalist's and industry experts to conferences in Canada to witness best practice. As a tribute to Gerry's outstanding contribution Gerry received  a letter from PM Justin Trudeau upon her retirement last week.
Steve Jobs said "Choose to do something you love if not keep looking". It is fair to say that Gerry's love of her job made her a joy to work with. Her enthusiasm for Canada is infectious and her professionalism always impressed.
In today's roller-coaster world, the terms 'champion and visionary' are often mis-used and over-used.  In the case of Gerry Mongey, they are completely apt. Since 1981 Gerry has more than delivered on her job in international business development. For Ireland and Canada over the last four decades a great gift has been bestowed, providing inspiration and models for many others in Canada and Ireland.'