Dear all,
Welcome to our latest edition of our newsletter. I would like to say how delighted I am to become vice-chair of the Ireland Canada Business Association and look forward to working with the ICBA Advisory Council and also engaging with our members to continue growing and promoting Ireland Canada relations. We have very exciting plans ahead which I look forward to supporting the association in their implementation
We would like to hugely thank Suzanne Drisdelle, the Canadian Embassy's new Senior Trade Commissioner and Charge D'Affairs, for joining us at our recent leadership council meeting. It is very pleasing to hear about the Trade Commission Services strategic plans and Canada's international trade objectives.  We look forward to working with Suzanne and the Canadian Embassy and supporting each other as we continue to work on building trade relationships between our two countries and ensuring we provide our members – YOU – with any support you need in achieving your strategic objectives in both Ireland and Canada.
We would also like to extend a warm welcome to our newest members, Greenfield Energy, Nephin Energy, Hanover Communications and Accelerated Payments.
Lastly, we were all so thrilled for Bianca Andreescu, first Canadian ever to receive a Grand Slam singles title and such an achievement for a nineteen year old!  Congratulations to Bianca.
We hope to see you all at our Maple Leaf Dinner on October 18th at the Marker Hotel in Dublin, where we are honored to have Goldy Hyder, President and CEO of the Business Council of Canada, as keynote speaker. It promises to be a great event, and you will find more details about it below.
Thank you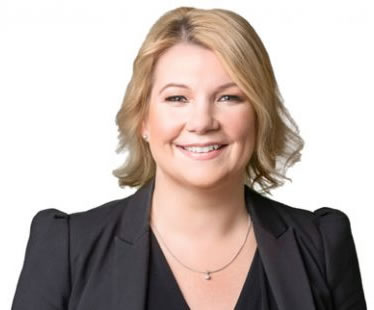 Joanne McEnteggart, Vice-chair
Gerry Mongey receives ICBA Honorary Lifetime Membership Award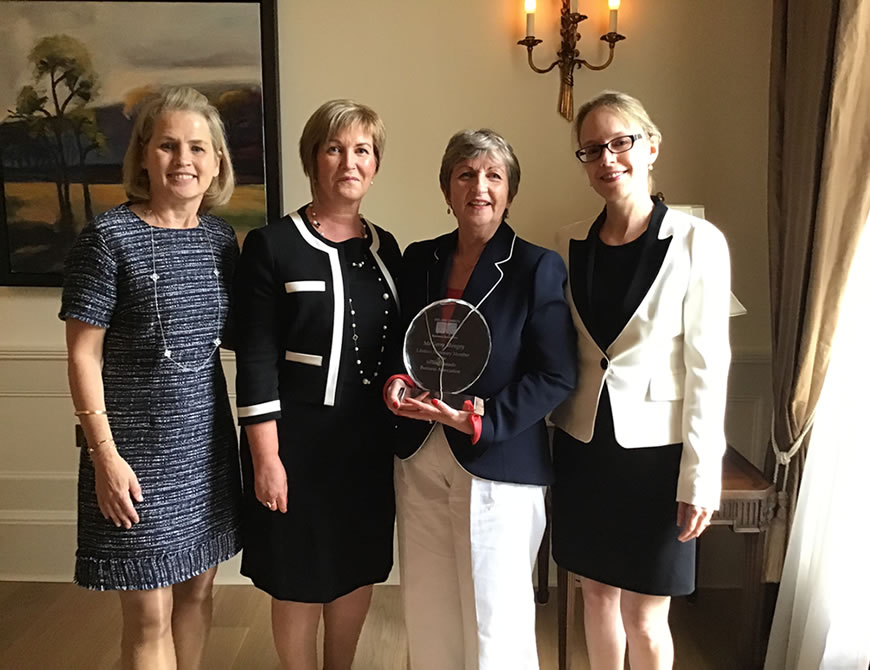 Kate Hickey, Deirdre Giblin, Gerry Mongey, and Suzanne Drisdelle
We were delighted to present Gerry  Mongey with an Honorary Lifetime Membership of the ICBA on her retirement as Trade Commissioner at the Canadian Embassy in Dublin –  Gerry is the first woman to receive this accolade.  So, thank you Gerry for all your hard work for us at ICBA and the Canadian embassy over the years.
Read the full tribute paid to Gerry as she accepted the award: https://irelandcanada.com/profiles/gerry-mongey-tribute/
---
IN PROFILE: Laureen Regan – President and Founder, Ireland Canada Centre for Commerce, Calgary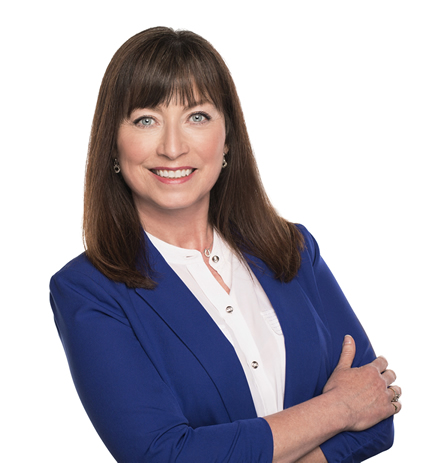 "The time has never been better for Irish and Alberta businesses looking for new markets. Businesses and visitors alike will find a world of opportunity, an affordable business climate, young and educated workforce and a warm welcome in Alberta"
In the latest of our series of profiles on the organisations  helping Irish companies to thrive in Canada, we meet Laureen Regan, who heads up the Ireland Canada Centre of Commerce, Calgary, and who is also Honorary Vice Consul for Trade and Investment for Ireland. Waterford-born Laureen outlines the top reasons for choosing Alberta as a base, gives her advice on how to get established, and delivers a message to the Irish government on successfully seizing current business opportunities. Read the full article HERE.
ICBA – Roundtable Discussion – September 2019
Thanks to everyone who joined us at the ICBA roundtable featuring contributions from Honorary Vice Consul for Trade and Investment for Ireland, Laureen Regan, Darcy Kerwin of Vermilion, ICBA Vice Chair Joanne McEnteggart of IQEQ and Suzanne Drisdelle, Senior Trade Commissioner and Chargé d'Affaires of the Canadian Embassy in Ireland.
---
---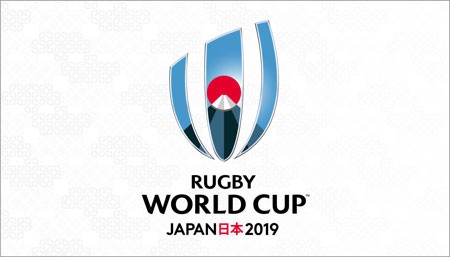 The ICBA wishes the very best of luck to the Ireland and Canada International Rugby squads as they progress in the 2019 Rugby World Cup.
---
Chris Collenette, Chairperson – ICBA & Joe Shannon, CEO – G Golf Ireland
With Shane Lowry winning the British Open at Royal Portrush, and Adare Manor being announced as host of the 2026 Ryder Cup, the world of golf has been big news this summer. Our new chairperson Chris Collenette caught up with ICBA member Joe Shannon, CEO of  G-Golf Ireland, to chat about Ireland as a golf tourism destination, it's huge value to the economy, and the burning question of who has the best golf courses, Ireland or Canada?!
---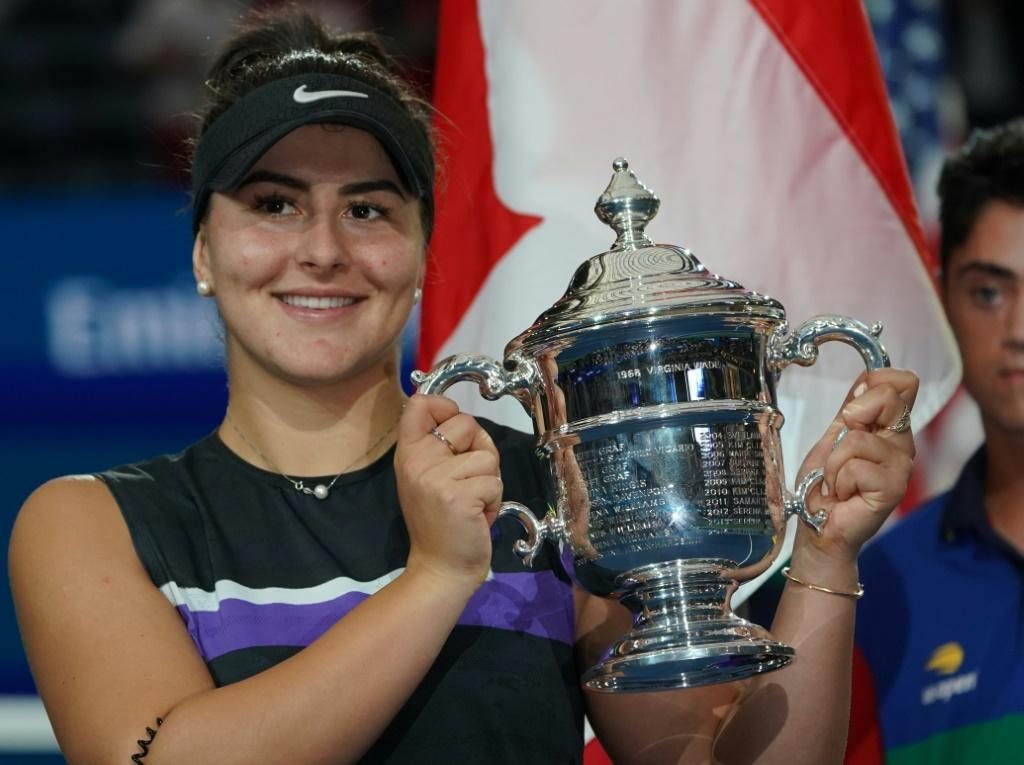 "I've said this many, many times before. I'm going to say it again: It's been a goal of mine to inspire many people, especially Canadian athletes. I think that this win will hopefully do that, not only this win but just what I've accomplished this past year because so many Canadian athletes have paved the way for me when I was young."
Bianca Andreescu (19) became the first Canadian ever to win a singles Grand Slam when she beat Serena Williams in the final of the US Open. Congratulations Bianca from all at the ICBA.
---
We are delighted that Mr Goldy Hyder, President and CEO of the Business Council of Canada will be our special keynote speaker at the annual ICBA Maple Leaf Dinner on October 18th.
The Council represents the chief executives and heads of 150 leading Canadian businesses, employing 1.7 million Canadians and composed of every major industry across the country.
Prior to this role, Mr Hyder was President & CEO of Hill+Knowlton Strategies, and before that served as director of policy and chief of staff to The Right Honourable Joe Clark, former prime minister and leader of the then federal Progressive Conservative Party.
We look forward to hearing Mr Hyder's insights on the great relationship and exciting opportunities that exist between Ireland and Canada right now. For more information and to book a place email events@irelandcanada.com
---
Ireland v Canada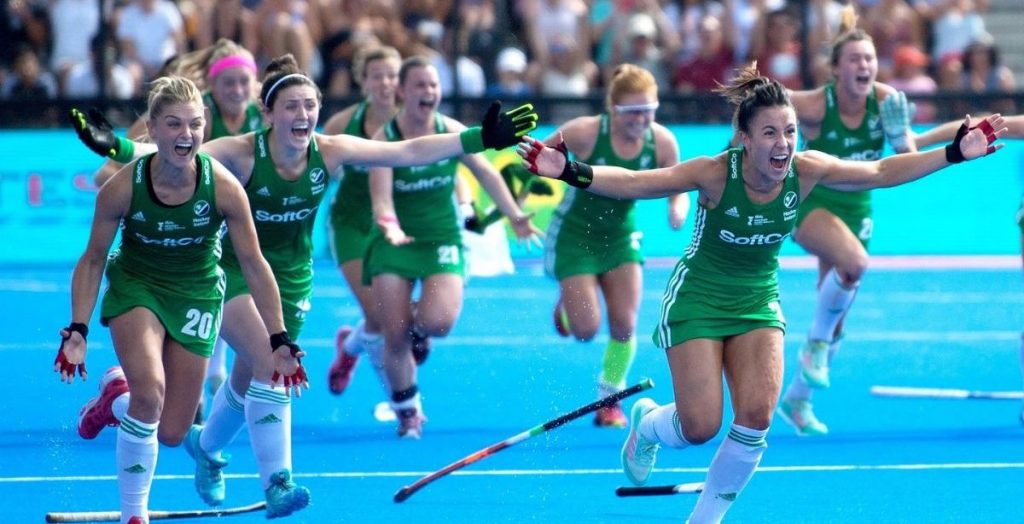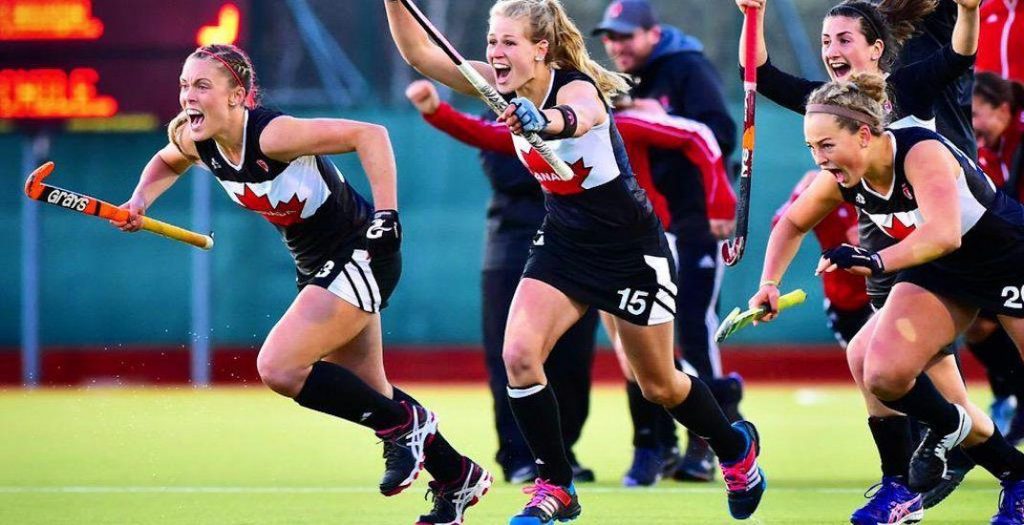 RTÉ will carry live coverage of the Ireland's historic two-game Olympic qualifier against Canada at Energia Park in Donnybrook on 2nd and 3rd of November. Best of luck to both teams!
---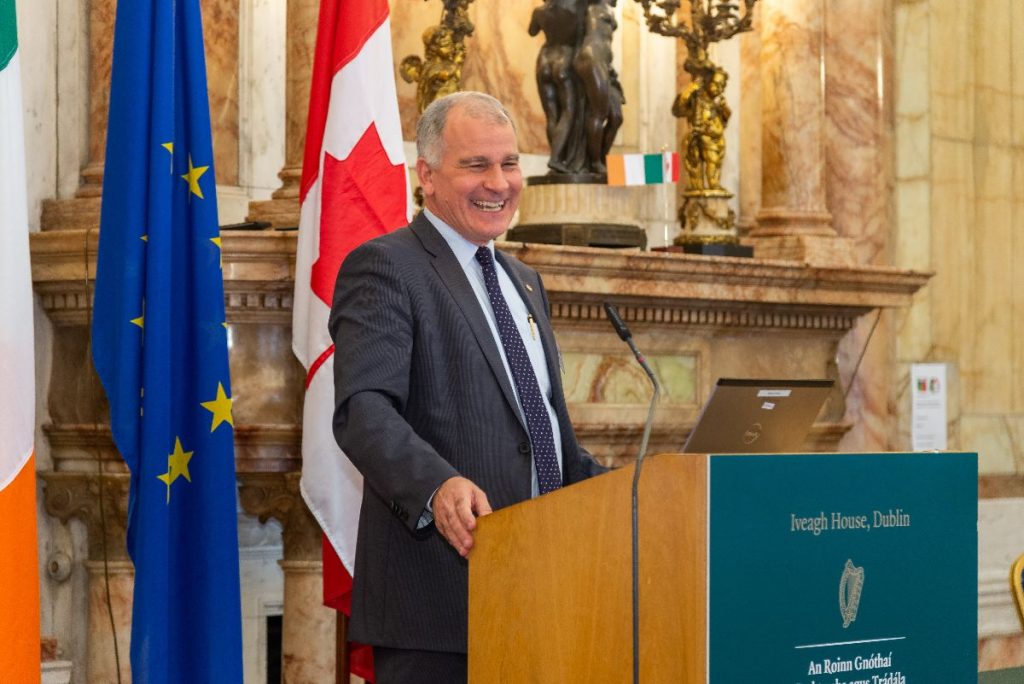 We wish Dan Costello the very best of luck as he moves from his role as Ambassador of Canada to the European Union on to pastures new. Dan delivered a fantastic address to last year's ICBA Business Summit and you can listen back to it here (introduction by Chris Collenette)
---
DATES FOR YOUR DIARY
8th October – ICBA member Geoscience Ireland, in collaboration with the Irish Mining and Quarrying Society,
will be hosting the 'Mining Ireland' conference this Oct 8th
at the Radisson Blu Airport, Dublin. For registration details please visit the IMQS
18th October – The ICBA Annual Maple Leaf Dinner, featuring Mr Goldy Hyder,
Business Council of Canada, as keynote speaker. Email events@irelandcanada.com.
21st November – Ireland Canada Trade Briefing – National College of Ireland.
Keynote address by Minister for Finance, Paschal Donohoe.