A Welcome Message from ICBA Chairperson, Chris Collenette
---
Minister Eamon Ryan publicly backs CETA Trade Deal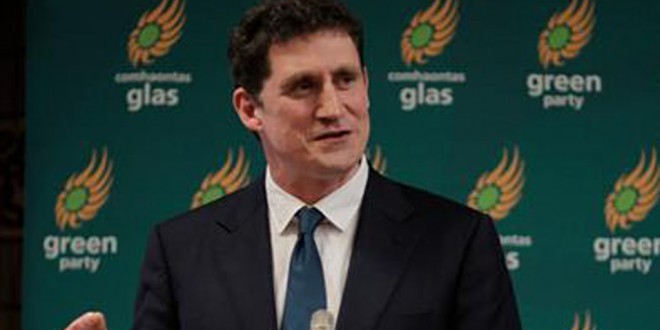 On Dec 15th Eamon Ryan, Environment Minister and Leader of the Green Party, publicly gave his full support to the CETA trade deal and committed to trying to convince all Green party members to also give it their backing.
The Minister has not always been a supporter of the deal, and he outlined three specific developments that led him to change his mind. Those three changes, along with the ICBA's reaction to his comments, are outlined here.
---
Eamonn McKee becomes Irish Ambassador to Canada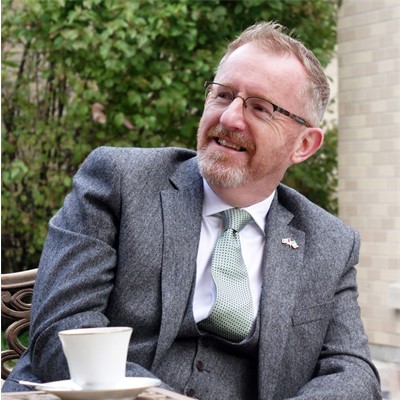 Eamonn McKee has become Ireland's new Ambassador to Canada, Jamaica and The Bahamas, replacing former Ambassador, Jim Kelly. He previously held ambassadorial positions in Seoul and Israel and has spent the last 5 years as Director General of the Trade division at the Department of Foreign Affairs. Ambassador McKee is also an avid reader of history and indeed loves writing about the subject too, which gives him a very interesting perspective on some of the biggest challenges that the world is facing right now.
Ambassador McKee recently joined us as special guest on the The Ireland Canada Connection podcast series.
He spoke about:
·       His priorities for his new role of Ambassador to Canada
·       The importance of national brands and how to grow them
·       Why Ireland thrives in a free-trade global environment
·       How business is all about relationships and personal connections, and why this makes organisations like the Ireland Canada Business Association so important
·       The new wave of Irish emigrants making Canada their home
·       How an understanding of the past can help us make better decision in the present
---
Goldy Hyder on The Ireland Canada Connection podcast series
Goldy Hyder on the power of businesses and governments working together to deliver for citizens.
Our guest on the latest episode of The Ireland Canada Connection podcast series is Goldy Hyder of the Business Council of Canada. (LISTEN HERE)
The Council represents the chief executives and heads of 150 leading Canadian businesses, employing 1.7 million Canadians and composed of every major industry across the country.
Goldy Hyder, it's President and CEO, has a fascinating track record in business, public policy, and in the not for profit sector. He has such informed and passionate opinions about effective leadership, business strategy and global trade. In this interview Mr Hyder and Patrick Haughey talk about:
•     His ties to Ireland, his trip to Dublin in 2019, and why the keynote speech he gave then is as relevant today as it was then
•     Driving the competitiveness of Canadian businesses
•     Why trade is the solution to an impending global recession
•     How Eastern countries have managed Covid-19 more effectively than those in the West
•     His hope for what the new US Presidency might achieve for global trade and relations
•     Why CETA has been a boost for businesses and why Ireland must ratify the agreement
•     The leadership mindset and policy-making in times of crisis
---
ICBA pre-budget submission calls for action on Trade, Sustainability, Connectivity, and Sustainability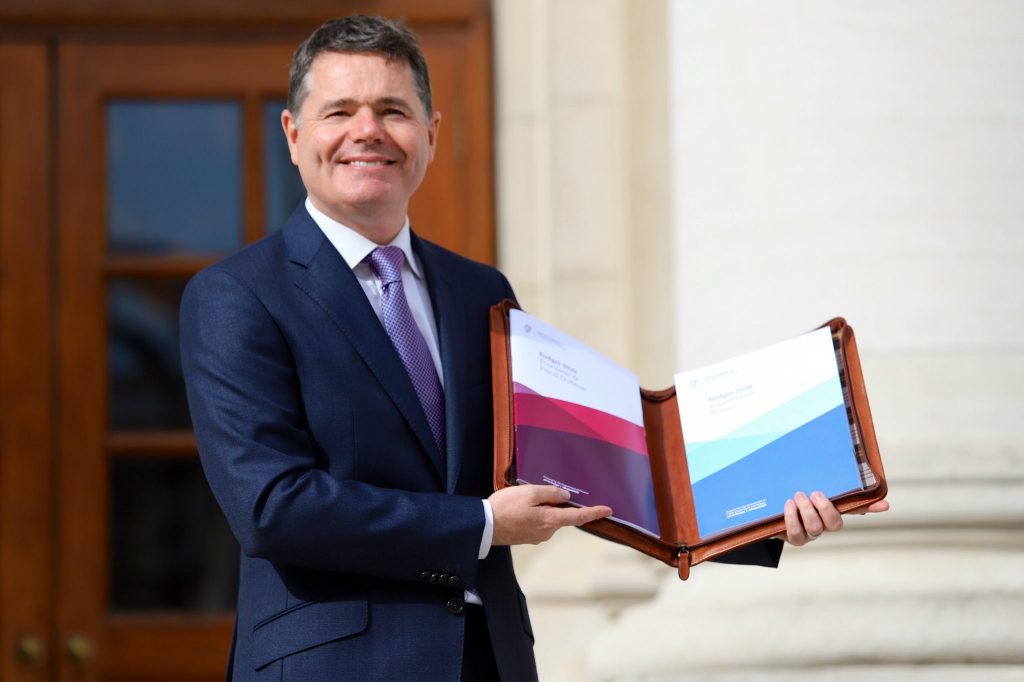 Ireland and Canada enjoy an incredibly strong economic, political, and historical relationship. The number of jobs provided by Canadian companies in Ireland has grown by 25% since 2018 to over 15,000.  The number of new Canadian companies expanding into Ireland has more than doubled since Brexit was passed and now stands at 75 operational companies. For the past three years, Ireland has enjoyed a trading surplus with Canada of over €1.2 billion with over 6000 Irish companies exporting to Canada. The ICBA is uniquely placed to point to the supports and initiatives required to underpin this successful relationship and ensure that it continues to grow and thrive.
In this context, the ICBA pre-budget Submission: Budget 2021 comprised four key pillars (Trade, Sustainability, Connectivity, and Housing) and centered around supporting Ireland's post-Covid recovery and future growth. Visit the ICBA website to read the submission. 
---
ICBA in the News
Letter to the Editor signed by ICBA Members
Thanks to all of the ICBA members who signed their name to the ICBA Letter to the Editor published recently in the Irish Times. The letter stressed the urgency of the ratification of CETA by the Irish government, particularly at a time when trade is being diminished as a result of Brexit and Covid-19. The letter has been extremely well-received and can be read in full by clicking the below image or HERE.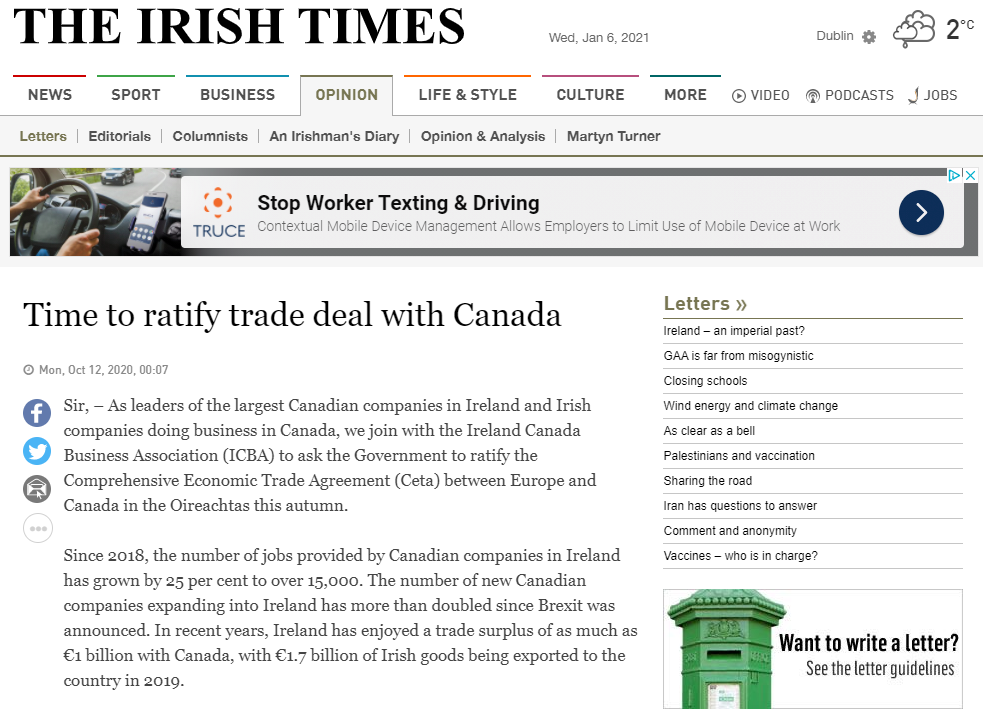 ---
Minister Eamon Ryan CETA Remarks
Coverage of ICBA's most recent press release welcoming Minister Eamon Ryan's comments supporting CETA.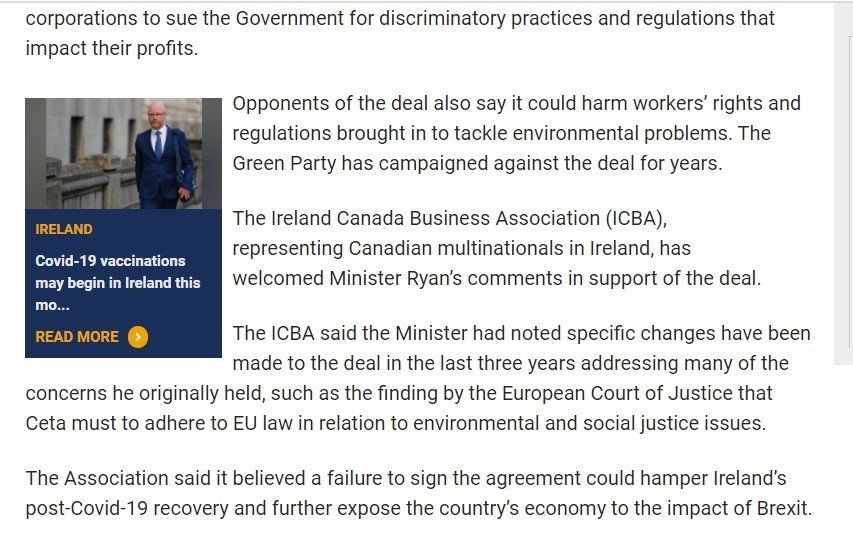 ---
What's Happening in Canada?
Vaccine rollout
Canada begins a rollout of the Pfizer-BioNTech Covid-19 vaccine this week, just days after becoming one of the first countries to approve the treatment. Prime Minister Justin Trudeau has previously said the country will receive 249,000 initial doses of the vaccine this month.
Canada pre-ordered 20 million doses of the Pfizer-BioNTech vaccine when it was still in development, with an option for 56 million additional doses. The vaccine – which proved to be 95% effective in late-stage clinical trials – is administered in two doses, 21 days apart. Speaking to national broadcaster CBC, Dany Fortin – who is in charge of the vaccine distribution – said "the delivery schedule is unfolding exactly as planned."
Uptick in survival skills training during pandemic in Canada
While some of us took up new hobbies like growing veg or learning a language during lockdown, others went a bit further and learned how to live off the grid and survival in the wild.
Chuck Wrathall, a survivalist and photographer from Cape Breton, has seen membership of his group go from 300 pre-pandemic to over 1500 today.
"Bushcraft has exploded. People love the wilderness skills. They want to know how to survive, how to forage, how to go out and hunt and gather," he said. "Plus they want to know how to be self-reliant so that could mean off the grid or being self-sufficient, having solar or having water collection."
His group isn't the only one to see an increase in its members lately. Facebook groups like Canadian Prepper, Canada Emergency Preppers, and Preppers & Survivalists of Canada have also seen an uptick since the start of the pandemic.
RIP Ron Irwin
Ron Irwin was Canadian Ambassador to Ireland 1998-2001. In 1975, he was made a Member of the Order of Canada. He died on December 5, 2020 at the age of 84.
Prime Minister Trudeau said in a statement that Mr Irwin "will be remembered as a visionary leader. Mr. Irwin was invested into the Order of Canada, a recipient of the Queen's Jubilee Medal, and received the Sault Ste. Marie's Medal of Merit for his exceptional public service career spanning over 35 years."
(Credit: Suzanne Drisdelle of the Canadian Embassy for contributing to these stories)
---
What's Happening in Ireland?
Ireland launches Covid 19 vaccine programme
The Irish government this week announced details of the National Covid-19 Vaccination Programme. Under the plan, up to 14 million doses of the vaccine could be purchased and it will be available to people free of charge.
First to get it are adults over the age of 65 who are residents of long-term care facilities and frontline healthcare workers in direct patient contact roles, including vaccinators. Those aged 70 and older will be next, starting with over 85s IBM and software giant Salesforce have been tasked with creating a new IT system to manage the entire programme.
Irish economy to bounce back strongly
Ireland's economy will be among the best-performing in the western world this year with GDP growth of 0.8 per cent, before accelerating to export-driven growth of 5.3 per cent in 2021. That's according to Ibec, the association representing over 70% of employers in Ireland.
In its latest quarterly report Ibec predicts that the economy will "recover lost momentum rapidly" over the next year or two as coronavirus vaccines are quickly rolled out and an expected last-minute trade deal with the UK reduces the negative impact of Brexit. Ireland's strength in key high-performing exports sectors such as pharmaceuticals and IT services will play a central role in this rapid recovery.
---
Mary McAleese delivers lecture to mark launch of ICUF's D'Arcy McGee Beacon Fellowship Programme
Mary McAleese: Inaugural D'Arcy McGee Beacon Lecture (Ireland-Canada) from ICUF on Vimeo.
Professor Mary McAleese, President of Ireland (1997-2011), Chancellor of Trinity College Dublin, delivered this captivating and inspiring lecture to staff, students and friends of the University of St. Michael's College, University of Toronto, on October 29th 2020.
This lecture marked the launch of ICUF's D'Arcy McGee Beacon Fellowship Program, a scholarship program which supports the development of connections between Canada and Ireland through online engagement.
---
'The Role of the Irish in the making of Canada' – watch the ICUF Inaugural D'Arcy McGee Beacon Lecture by the Hon. M. Jean Charest, delivered in November. A fascinating lecture about such an interesting and important time in Canadian and Irish history.
Hon. M. Jean Charest Lecture – WATCH VIDEO
---
ICBA Member News
ICBA Member News: Shareholders at Montreal-based tour operator Air Transat have approved a purchase offer from ICBA member Air Canada. The deal is expected to in early 2021.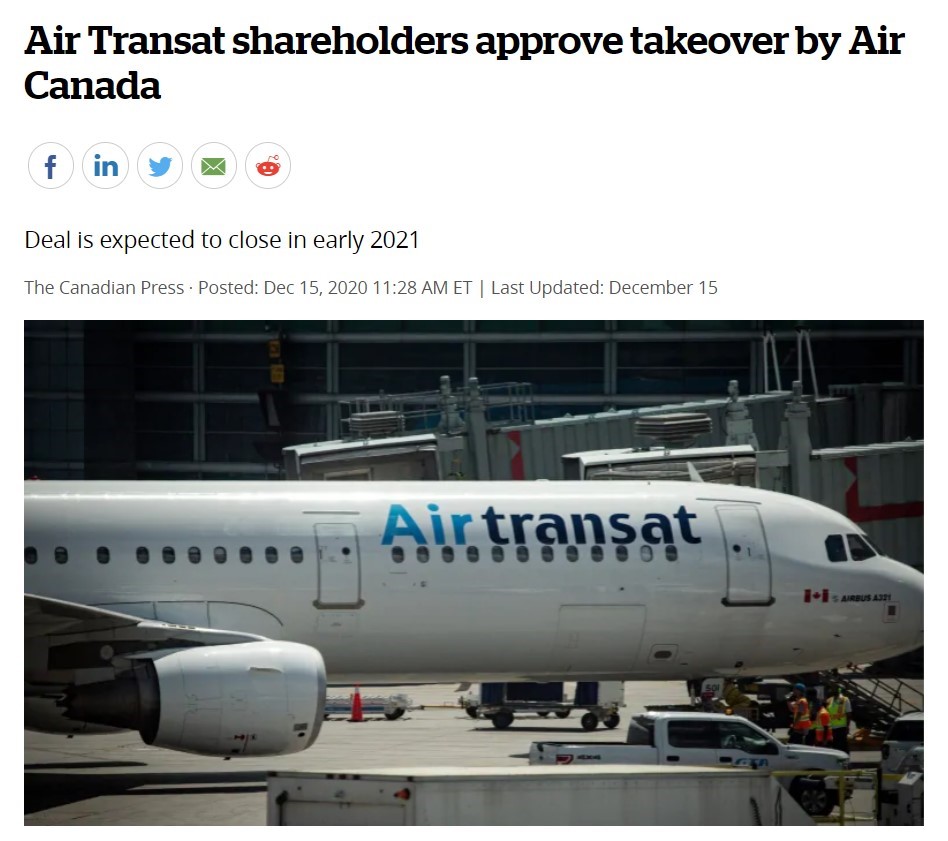 ICBA Member News: Shareholders of Dublin and Toronto-based company IPL Plastics have approved the purchase of the company by Intelligent Packaging Limited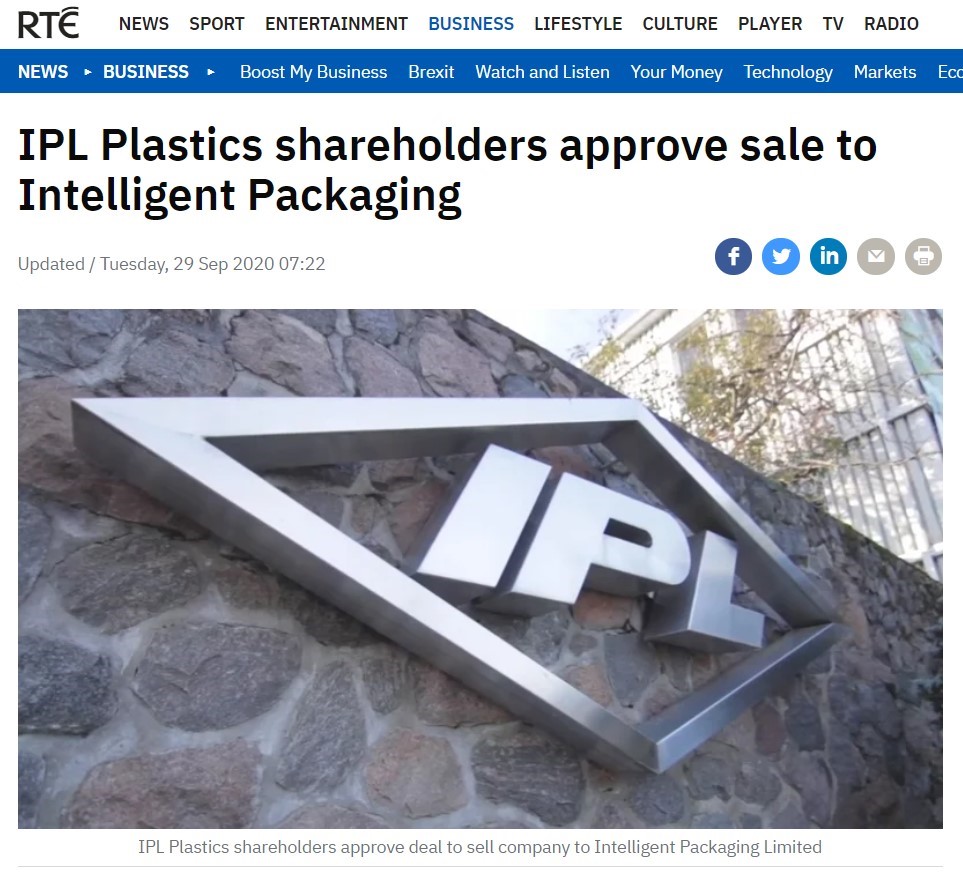 ICBA Member News:  Canadian company OpenText is currently hiring for 30 people in Co Cork. The software company is looking for new staff across DevOps, database administration, site reliability, senior technical support and more.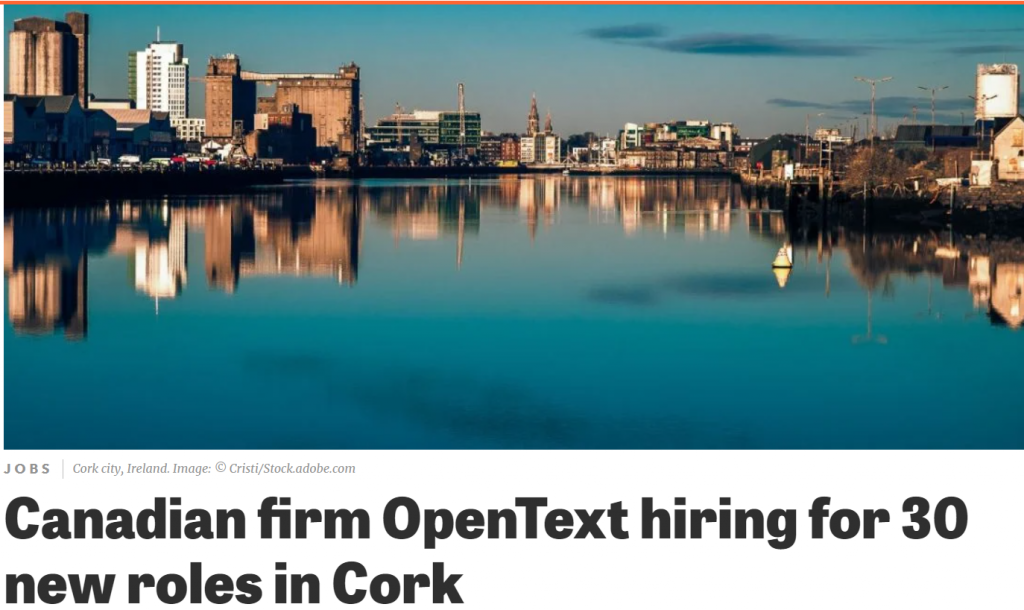 ---
DATES FOR YOUR DIARY
Frank McKenna, Deputy Chair, TD Bank address to the ICBA (remote)  – 28th January at 2.30pm GMT
To register please email events@irelandcanada.com 
---
Thank you, and stay safe.