Kate Hickey, Executive Director, ICBA
25 April 2022
It's not just about a common language, our shared heritage, shared values and centuries-old links across the Atlantic.
And while it helps that 4.6m Canadians, 14% of the total population, can claim Irish ancestry, there's much more to the growing connection than misty-eyed sentiment for the old country.
In the post-colonial era, Canada and Ireland have forged very strong links at the highest levels.
One of the first official visits by an Irish head of state to a foreign country happened in 1948, when Taoiseach John A. Costello travelled to Canada, a full year before Ireland was finally declared a republic and 8 years before the same Taoiseach made his first visit to the White House.
It was in Canada, on that visit in 1948, that Costello (in answer to a reporter's question) said for the first time that Ireland would become a republic, a move that is said to have surprised both his hosts and his cabinet at home.
Today, the two countries share a very strong commercial and economic relationship, built on very significant trade flows and extensive bilateral investment.
Since 2018 and in the post-Brexit era, the number of jobs provided by Canadian companies in Ireland has grown by 25 percent to over 15,000.
We have seen the number of new Canadian companies opening operations in Ireland more than double since Brexit became a reality.
There is also good news on the export front. Over the past few years, Ireland has enjoyed a trade surplus of as much as €1bn with Canada.
In 2020, some €2.1 billion of Irish goods were exported to the country. As a result, there are over 600 Irish companies now exporting to Canada which support 25,000 jobs here.
It works both ways – bilateral goods trade between Canada and Ireland totalled $3.9 billion in 2020 with Canadian exports of $672.3 million and imports of $3.2 billion.
In terms of services trade, Canada exported $1.6 billion in services to Ireland in 2019, and imported $3.1 billion of services from Ireland in the same year.
Since Brexit made Ireland the only anglophone nation in the 27-country EU, Ireland, with its highly educated, skilled, young workforce and open, dynamic economy, has become the natural choice for a rapidly growing number of Canadian companies looking for a European base.
Our continuing, strong links with the UK also make Ireland a natural bridge to an economy that may now be outside of the EU, but still counts in a big way for many Canadian companies.
Ciaran Luttrell is Director of Services, European area for eSentire, a Canadian company that's a global leader in infosec software and services.
With its European base in Cork since 2015, eSentire has seen the benefits of reaching the UK and Europe from Ireland.
Ciaran recently told the Ireland Canada Connection Podcast that eSentire put a lot of thought into locating their European security operations centre and supporting offices.
In the end, it was the already thriving tech sector in Ireland, and Cork's growing status as a European hub for information security (infosec), that made the difference.
"Security operations is very much the core of eSentire.  It's how we deliver services to our clients and protect them from cyber threats." Ciaran told the Ireland Canada Connection podcast.
"That was the main function that they wanted to have with their international location, and to do that you have to have access to talent and that continues to be a global challenge."
"I read recently that there were 4 million unfilled security roles globally in 2021 – so access to talent, and strong talent, was a key factor when we were looking for a location."

Ciaran Luttrell, eSentire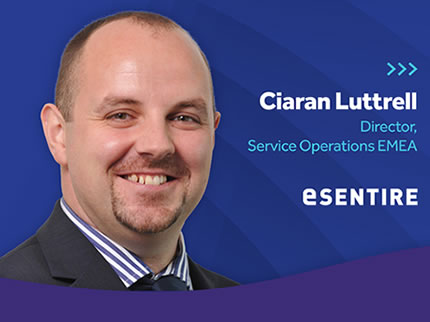 Ciaran said eSentire, from day one, found a very willing partner in Munster Technological University (MTU), which gave them a steady stream of highly skilled graduates looking to start their careers with an international infosec company with a base in Cork. 
"MTU has a reputation now for being a top tier institution that produces very talented graduates, especially in info security and that has proved to be a key element in the success we have had here." 
The proactive approach of the IDA, when eSentire was looking at locations in Ireland and on the continent also made a big difference. 
Ciaran said that the forward recce team arrived in Ireland from Canada with plans to then go on to two other countries. 
Having been given a "strong itinerary" and support from the IDA, the team then cancelled their further trips and sent word back to Canada that Ireland had exactly what they were looking for. 
Sue Kelly was with Canadian pharmaceutical wholesalers RxSource when she talked recently to the Ireland Canada Connection Podcast
As (former) director of Irish operations with RxSource, who have had their European base in Ireland since 2016, Sue said companies operating in global markets need a physical presence in Europe, and Ireland has been a very good home to RxSource. 
"It's not mandatory, but it releases a huge number of restrictions, even from the perspective of our customers and vendors, because it determines the kind of licences or authorisations they need to have."
"Having an EU base hugely opened doors for the kind of transactions that we could conduct – if you want to be able to grow your business and maximise your potential, you have to be operating within the EU."

Sue Kelly, RxSource
Sue said that in 2016, as RxSource was making their decision, the UK seemed to be the obvious choice, as the Canadian company wanted an EU base in an English-speaking country.
But the massive disruption caused by the Brexit vote in 2016 prompted a complete rethink on the part of RxSource.
"That open door into the European Union suddenly closed. So where was the next best option? That was Ireland, where there were also some very attractive tax breaks for foreign operations to set up." said Sue.
RxSource have faced challenges in Ireland, with Sue saying that breaking into the relatively closed and heavily regulated pharma wholesale sector has taken persistence and innovation.
This required a highly motivated workforce that knew the Irish and European market, had a strong grip on the regulations here and across Europe, and understood the differences between operating in the EU and Canada.
Ken Finegan is MD of Greenfield Global, one of the more recent arrivals from Canada which now has a 4,000m2 facility in Portlaoise, the company's first outside North America.
Greenfield Global is a leading producer and supplier of high-value, mission-critical raw materials, ingredients, and additives for sectors from chemical manufacturing and bio-fuel to distilling and agriculture.
Ken recently told the Ireland Canada Connection Podcast that when the company decided on Ireland, he visited a total of 32 sites before settling on a Midlands base at Portlaoise.
Head-quartered in Toronto, the privately-owned company found that locating outside a major city such as Dublin or Cork brought them extra advantages.
"There were a number of factors, we did an extensive search during the site selection process and looked at 32 sites before settling on Portlaoise." said Ken.
"Portlaoise ticked all of the boxes for us, we had a high quality pool of labour, we could also look to attract some of the 30,000 people who commute out of Laois to work in centres like Dublin every day, offering them a better work-life balance, working right on their doorstep."

Ken Finegan, Greenfield Global
"Portlaoise has great connectivity through the motorway network, to the rest of the country and to the ports at Dublin and Rosslare, with Rosslare being the port through which we send our products to Europe, after Brexit."
Ken said the IDA were very important in the process of coming to Ireland – but he said Canadian businesses can also expect 'great support and cooperation' from local councils who will provide real partnership on the ground.
"The first step is to establish that connection with the IDA, but Canadian companies coming into Ireland can expect support at every level from a wide range of organisations, from the Irish Canada Business Association, the local Chamber of Commerce, Laois Chamber was very helpful, and the local authority."
"The welcome we got from Laois County Council, and the support they gave us, was exceptional."
The CETA trade deal, which has transformed trade and economic ties between Canada and EU, has brought great opportunities for Canadian companies looking for a strong presence within the world's largest and most integrated trading bloc.
Ireland, with its highly educated and skilled young workforce, as an English-speaking, open economy that has made successful partnerships with FDIs a core strategy, represents the natural choice for Canadian companies looking for a base in the EU.